Chef Mike Monahan founded Chefs USA in 1995. His company is dedicated to the simple proposition that busy, budget focused parents and professionals can prepare healthy and economical meals that are tasty and nutritious.
​
This proposition is brought to life daily by over 175 professional chefs who demonstrate meal preparation in grocery stores across the USA. Our professional in-store cooking demos drive purchases and evoke meaningful connections with brands and shoppers. We employ chefs that not only have expert culinary skills, but are trained to sell products to consumers at store level while preparing delicious and nutritious meals.
​
Chefs USA has led the way in the use of leading edge technologies to bring clear and concise meal preparation videos to millions of people around the world. Each video in this ever expanding library is typically 3-min to 5-min in length and details the ingredients and preparation of meals that span the tastes of the culinary world. We take pride in teaching consumers about cooking with wine, and which ones pair up well with each dish. With over 186 thousand subscribers on our YouTube channel, shoppers know us and are genuinely excited to see us cooking with wine in the grocery store across the USA.
Top brands trust Chefs USA to manage and execute their in-store demonstrations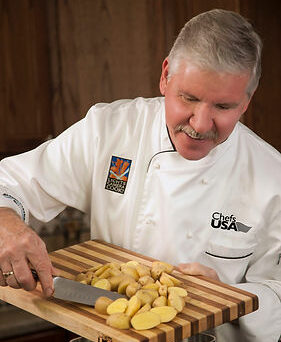 Chef Mike Monahan is Founder and President of Chefs USA in Atlanta, GA. Founded in 1995, his company performs in-store cooking with wine demonstrations with professional chefs operating in 15 states throughout America.
​
Chef Mike started his career at Publix Supermarkets back in 1979 and worked his way up to Assistant Manager at Store #16 in Boca Raton, Florida. In 1985, he opened and managed the first Publix Liquors in Coral Springs, Florida. It was there that Chef Mike learned the joy of wines.
​
Chef Mike is an entrepreneur and is a self-taught chef. He also operates his own video production studios creating cooking videos and television commercials.
​
Chef Mike believes in keeping it simple, with fresh ingredients, paired with a great wine and good company.
​
"If you can read, you can cook"
– Chef Mike Monahan