That's "if" you can get your POS Materials distributed.
If you're looking for ways of increasing your sales in grocery stores, start with your POS materials. Customers eat with their eyes, and nothing gets their appetite going stronger than some appetizing dishes for them to salivate over.
Some of the best POS materials we have seen over the past quarter century is produced by Bristol Bay Sockeye Salmon and The Alaska Seafood Marketing Institute (ASMI). Our chefs distribute hundreds of thousands of their POS materials yearly.
If you are sending POS materials directly to the stores, guess where 99% of it ends up?
Yup, you guessed it, the trash bin. Today's grocery stores are understaffed and over worked. They barely have time to fill their shelves, let alone display your POS materials. Have you noticed the increase in the number of self-checkouts lately?
We take a different approach.
At every in-store cooking demonstration we do. Our chefs not only distribute their materials, but they also leave it behind to continue to sell their products for days after we leave. Isn't that what POS is supposed to do?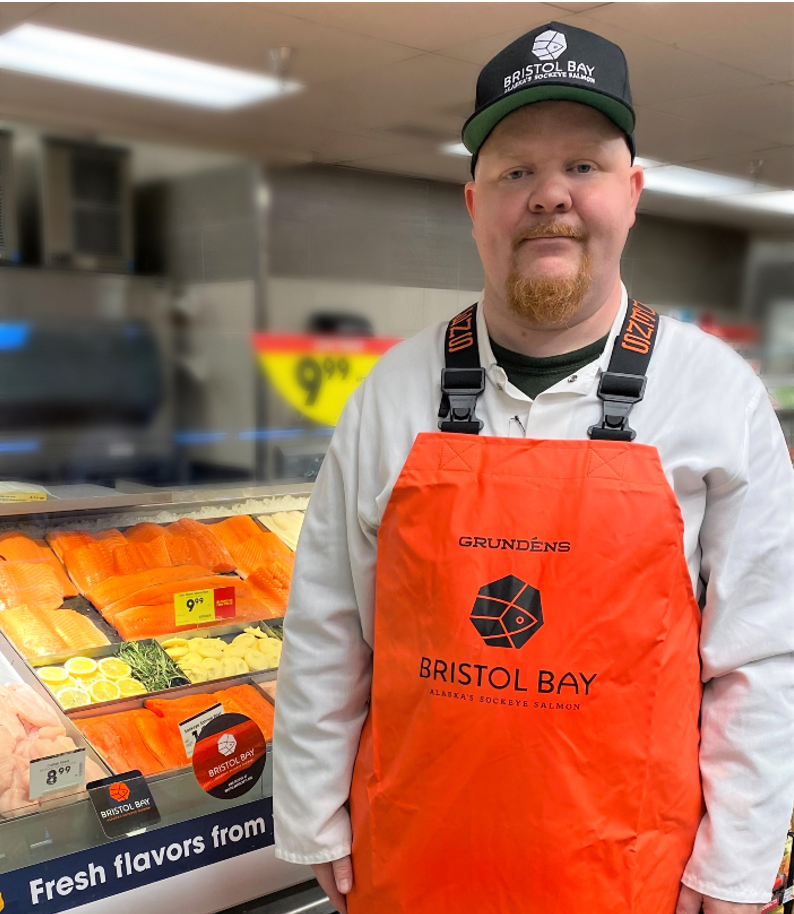 Selling products in the grocery stores is not limited to just recipe cards and countertop signs.
Our cooking demonstration chefs also increase the sales on our other food partners' products as well. We do so with our shelf talkers, Instant Redeemable Coupons (IRC), hats, aprons (for the meat department), and display signs. These too are left behind to continue the sales for days after our events. Some of our clients have experienced a 500% increase in their sales. Our chefs sometimes see meat and seafood clerks wearing POS aprons and hats that were given to them 6 months ago.
If you are looking for a way to stand out, in a sea of products, let us help. It works!