Why not use aromas to sell? If you are trying to find creative ways to sell more of your products in the grocery stores, we have the answer. The good old saying, "Never shop when you're hungry", is true, and it's our silver bullet to getting a lot more items into the customers shopping carts.
Cooking on butane burners in the grocery stores creates quite a bit of excitement. Splash in some wine and herbs, and all bets are off. Our Chefs enjoy when customers walk by, smell the aromas, and return to their stations to see what is cooking. It's almost unfair…
Use Aromas to Sell to a Captive Audience
Cooking with wine creates the opportunity for selling more products because the customers are uniquely interested in what we are cooking. Our "Cooking with Wine" Chef Demos allows time for our Chefs to explain what the products are, where they come from, and how to use them in the recipe. The secret is to cook in small batches, so the customers can learn how it's done.
Sales per Customer
Sales have been on the decline lately. Increasing prices has only exasperated this issue. Restaurants have been affected more than the grocery stores. That said, consumers are looking for ways to stretch their food dollars. We have seen a 70% increase in our sales because we offer a true "Meal Solution". Most of our recipes are less than 5 ingredients, and average only $4/serving.
All Products are for Sale
From wine, to seasonings, capers and olive oils…all are for sale from our Chefs tables. The average store may sell one case of capers over a 3-month period. We can sell a case (or two) of capers in one 3-hour Chef Demo. Same goes for seasonings. To increase the sales of seasonings, use aromas to sell and cook with them in front of the customers. The more you display on your table, the more that will sell. Customers see a lot of products and they will immediately get the impression that we intend on selling them all. This creates a sense of urgency, and the customers will act – and buy. The fear of loss, is stronger than the desire for gain…
We back up the sales with recipe cards. Many of our recipe cards include a QR-CODE to link to our cooking video . What better way to close the sale than to offer a way for the customers to see how it's made, before they buy.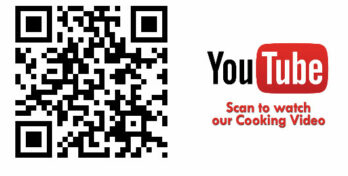 Chef Mike Monahan founded Chefs USA in 1995 and operates in 10 states. Let him show you how to get more of your products into the shopping carts.